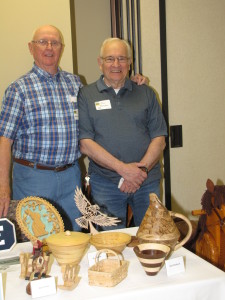 The Tel Hai community located off Beaver Dam Road is offering two new reasons to visit campus in early December—the Wood Craft Shop's Open House and the return of the popular Holiday Bazaar!
On Wednesday, December 3 from 1:00 to 5:00pm the members of the Wood Craft Shop will hold an open house and invites their neighbors in the greater community to come and see "where the guys hang out on campus." Shop foreman, Rod Muthard, and the 30 members of the club are eager to show off their updated wood shop and will be offering light refreshments as well as handcrafted items for sale. Pens of common and exotic woods will be offered along with a variety of wooden toys and other décor items at reasonable prices. Those planning to stop by will surely find great bargains for persons on their holiday gift list.
The popular Holiday Bazaar will be held on Thursday, December 4 from 9:00am to 3:00pm in the Tel Hai Chapel. Longer hours this year will allow for leisurely shopping on one floor. Twenty vendors will be participating and offering books, artwork, framed photography, jewelry, candles, hand-woven items, small antiques, a variety of tote bags, as well as skin care products and handcrafted pottery.
Tel Hai is located off Beaver Dam Road, east of Route 10. Directions and the campus map can be found on the website: www.telhai.org under the "Contact Us" tab on the home page. The Tel Hai is a nationally accredited not-for-profit community that has served senior adults since 1956 with a variety of housing choices, personal and nursing care, and Child Day Care as well as respite and rehabilitation services.
PHOTOS: 
Club members Gayle Kerr & Rich Toscano invite you to the Woodcraft Shop's Open House on Wednesday, December 3 from 1:00 til 5:00pm to do some holiday shopping among wonderful handcrafted gifts created on Tel Hai's campus.

Gil and Ellen Pyle will be participating in Tel Hai's Holiday Bazaar scheduled for Thursday, December 4 from 9:00am til 3:00pm in the Chapel on campus located off Beaver Dam Road in Honey Brook Township.