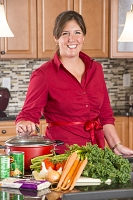 The Honey Brook Food Pantry opened as a temporary "mobile unit" offering distributions to income eligible residents of the Twin Valley School District on the last Wednesday of the month beginning January 31, 2014.  The food pantry, offered support by the Chester County Food Bank, learned its location would become permanent by the time the six month trial was concluded. Located at Door #8 at the Good Food Distribution Center at 5064 Horseshoe Pike in Honey Brook, the response from local families has underscored the need.
State approval of the organization's Articles of Incorporation in August and formation of the Honey Brook Food Pantry's first Board of Directors were important next steps. Among the Directors are the new Principal of the Honey Brook Elementary Center; Sybil Oswalt, Tel Hai Dietitian and Tel Hai resident, Tom Tracy.  Approximately 80 dedicated men and women volunteer at the pantry ensuring the monthly distributions are a success.
Items provided represent a five-day balanced food supply.  The number of participants served has grown exponentially over the past eleven months.  There are over 450 "food insecure" families who have registered and 700 individuals are served monthly. The pantry is open twice each month—on the 2nd Wednesday from 10:00am until 1:30pm and on the 3rd Wednesday from 4:00 to 6:30pm. If you are interested in helping the pantry in its work we are always looking for the following nonperishable foods:
pasta, rice, macaroni & cheese, spaghetti sauce
instant potatoes, breakfast cereal
 peanut butter, jelly, soup, canned fruit
tuna, stew and pasta meals
Looking for other ways you can help?
Donate cash and grocery store gift cards
Volunteer to pick up donations from food drives or local grocers
Organize a food drive at your church or work place
Collect personal items for donation (oral care items, soap, deodorant, and shampoo) or organize a fund raiser
We can all work together to make a difference in the lives of our neighbors. I hope you'll join us!
Sybil Oswalt
RD, CSG, LDN
Clinical Dietitian