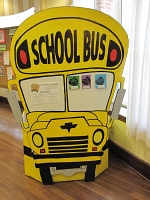 For six Tuesdays this summer, Tel Hai staff are partnering with the Indian Run mobile home park's camp for children who range in age from pre-school to junior high. The program held in their community center involves two shifts of workers helping on-site camp counselors. Between  80 – 100 youngsters participate in this program throughout the summer. On Thursdays of these same weeks—between June 24 and August 5—we are also providing lunches for teens at the center.
Now as the new school year approaches we would like to equip the children for their return with a backpack filled with supplies as outlined by their local schools. We have asked residents and their families, staff and community members to "adopt" a child to be sure they are well prepared to start the new school year by picking up a backpack in the "big yellow school bus" box in the Garrett Community Center lobby on the Tel Hai campus. In partnering with Wal-Mart we were able to purchase more than 100 backpacks—each with a labeled list of needed school supplies identified by grade: K through 3rd, 4th through 7th and 8th through 12th. Anyone adopting a backpack is asked to shop the list of supplies and return the full backpack to the Volunteer Services Office in the Garrett Community Center by Friday, August 8th.
The well-stocked backpacks will be distributed to the children participating in the Indian Run community center program on Friday, August 15th. We look forward to sending them off to school with all their needed supplies and a Rita's Water Ice. What better way to bring your summer break to a close!
Questions about the program can be directed to Keeli Looper, Director of Volunteer Services at Tel Hai by calling 610-273-9333, ext. 2010 or via email at klooper@telhai.org